Latest Updates
A North-South Divide audiobook now available
Fri, 11th December 2020
Alysha audiobook now available
Tue, 1st December 2020
My Best of 2019
Sat, 28th December 2019
The Honour of the Knights : Spanish Edition
Sat, 29th June 2019
My Best of 2018
Sat, 29th December 2018
Most Read
Project Starfighter - The game vs the book
Wed, 28th May 2014
Alysha audiobook now available
Tue, 1st December 2020
The Writing of A North-South Divide
Sat, 6th October 2018
Intrepid's Canadian Rockies
Sun, 27th August 2017
My favourite video game couples
Tue, 13th February 2018
Writing Progress
Alysha
134,000 / 134,000 (100%)
A North-South Divide
112,000 / 112,000 (100%)
Tags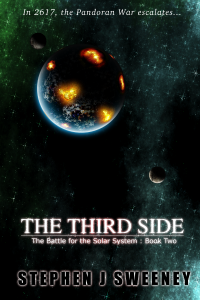 Book Information
Title: The Third Side (Battle for the Solar System, #2)
Genre: Science Fiction
Publication Date: 1st August 2011
ISBN: 9780955856174
Word Count: 146,000

Visit www.battleforthesolarsystem.com for much more information on the novel trilogy!
Synopsis
Simon Dodds has had his wings clipped. Shot down over the luxurious holiday planet Mythos and separated from his wingmates, he is quick to discover that the once-popular sun-soaked paradise has been transformed into a nightmarish war zone, swarming with armies of seemingly unstoppable black-suited soldiers. The Pandoran war machine is on the move, preparing to advance The Mission and deal to the rest of the galaxy the same fate it did the Mitikas Empire.
Unaware of what fate may have befallen his friends, the young pilot attempts to make his way through the dangerous streets of the war-torn city of New Malaga, as he waits for the CSN to rush to the rescue.
But from out of the chaos emerges something far more terrible; and if Dodds can somehow survive the next 24 hours, he might finally see beyond the lies he has been fed and hear a side to the story that no one wants him to: what really happened to the Imperium, who the black-suited warriors are, what the ATAFs were built for...
... and what his purpose in all of it is. Whether he likes it or not.
There are three sides to every story. But sometimes the truth is the hardest side to believe.
Sample Chapters
Where to Buy
THE THIRD SIDE is available to buy from the following online ebook retailers:

Amazon UK |

Amazon US |

Amazon CA |

Amazon DE |

Amazon FR |

Amazon IT |

Amazon ES
Related Books
The Honour of the Knights (First Edition) (The Battle for the Solar System)
The Honour of the Knights (Second Edition) (Battle for the Solar System, #1)
The Attribute of the Strong (Battle for the Solar System, #3)
The Battle for the Solar System (Complete)
Related News
The Honour of the Knights : Spanish Edition
Sat, 29th June 2019
About THE HONOUR OF THE KNIGHTS (Second Edition)
Sun, 5th June 2011