Latest Updates
A North-South Divide audiobook now available
Fri, 11th December 2020
Alysha audiobook now available
Tue, 1st December 2020
My Best of 2019
Sat, 28th December 2019
The Honour of the Knights : Spanish Edition
Sat, 29th June 2019
My Best of 2018
Sat, 29th December 2018
Most Read
Project Starfighter - The game vs the book
Wed, 28th May 2014
Alysha audiobook now available
Tue, 1st December 2020
The Writing of A North-South Divide
Sat, 6th October 2018
Intrepid's Canadian Rockies
Sun, 27th August 2017
My favourite video game couples
Tue, 13th February 2018
Writing Progress
Alysha
134,000 / 134,000 (100%)
A North-South Divide
112,000 / 112,000 (100%)
Tags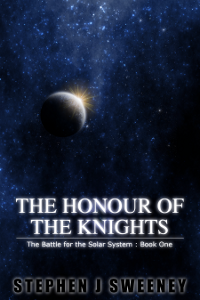 Book Information
Title: The Honour of the Knights (First Edition) (The Battle for the Solar System)
Genre: Science Fiction
Publication Date: 1st February 2009
ISBN: 9780955856198
Word Count: 124,000

Visit www.battleforthesolarsystem.com for much more information on the novel trilogy!
Synopsis
When starfighter pilot Simon Dodds is enrolled in a top secret military project, he and his wingmates begin to suspect that there is a lot more to the theft of a legendary battleship and an Imperial nation's civil war than either the Confederation Stellar Navy or the government are willing to let on.
Within weeks of being reassigned to the Confederate border system of Temper, the five would begin to untangle a web of lies and a cover-up that seemed to span the length of the entire galaxy. And it would not be long before they themselves would come face to face with that which destroyed an empire: an unforgiving, unstoppable, and totally unrelenting foe.
There seemed to exist only one glimmer of hope of driving back the darkness: The ATAF Project - a secretly developed set of starfighters that may well just harbour some terrible secrets of their own.
Downloads
The Honour of the Knights (First Edition) is a free novel (licensed under Creative Commons - see more below). You can download it directly from this site in the formats listed below:
License
The text of this novel is licensed under a Creative Commons Attribution-NonCommercial-ShareAlike 3.0 Unported License, with the following attribution:
© 2009, Stephen J Sweeney | www.battleforthesolarsystem.com
You can find out more about the license here: https://creativecommons.org/licenses/by-nc-sa/3.0/
Related Books
The Honour of the Knights (Second Edition) (Battle for the Solar System, #1)
The Third Side (Battle for the Solar System, #2)
The Attribute of the Strong (Battle for the Solar System, #3)
The Battle for the Solar System (Complete)
Related News
The Honour of the Knights : Spanish Edition
Sat, 29th June 2019
About THE HONOUR OF THE KNIGHTS (Second Edition)
Sun, 5th June 2011