Latest Updates
A North-South Divide audiobook now available
Fri, 11th December 2020
Alysha audiobook now available
Tue, 1st December 2020
My Best of 2019
Sat, 28th December 2019
The Honour of the Knights : Spanish Edition
Sat, 29th June 2019
My Best of 2018
Sat, 29th December 2018
Most Read
Project Starfighter - The game vs the book
Wed, 28th May 2014
About THE HONOUR OF THE KNIGHTS (Second Edition)
Sun, 5th June 2011
The Red Road
Mon, 23rd July 2018
A North-South Divide audiobook now available
Fri, 11th December 2020
Alysha cover reveal!
Wed, 17th October 2018
Writing Progress
Alysha
134,000 / 134,000 (100%)
A North-South Divide
112,000 / 112,000 (100%)
Tags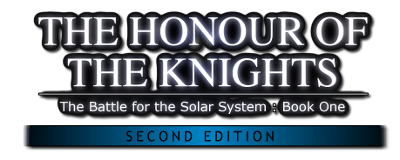 About THE HONOUR OF THE KNIGHTS (Second Edition)
Introduction
So, maybe by now you've probably guessed that there would be a second edition of THE HONOUR OF THE KNIGHTS. Given that the full title of the book currently available is THE HONOUR OF THE KNIGHTS (First Edition), it's not so unreasonable.
Before I plunge on further, however, I thought it would be important to clarify just what is and what isn't different between the first and second editions. To begin with, I'm going to tell you that the story is identical. If you've read the first edition, then you'll find very few surprises upon reading the second. I'll say that again: there is no change to the story. There's no need to be concerned that, if you don't read the second edition, you'll fail to understand what is going on in the THIRD SIDE or Book 3; this simply won't be the case.
BUT, what you will get with the Second Edition is a far better written story, with far more depth to the characters, events and storyline. In some places, these are minor. In others, it's like night and day.
There's a long (but simple) story behind how the Second Edition came to be. I think it's best if I start at the beginning ... [Note: feel free to skip to "The Bottom Line"]
How has this come about?
First of all, I'd just like to re-iterate that this isn't a ploy to get people to re-buy a book they have already read. That wouldn't make me very popular and would only erode my fan base.
This second edition came about as a result of a writing exercise. After I completed the first draft of THE THIRD SIDE, I found that I had been forced to make a style change. Without giving away the plot of the book, I'll say that it only revolved around how I presented Kelly Taylor's journal. In the first edition of KNIGHTS, the journal is written in the form of a diary. I purposely made it a little sloppy and unwieldy, to show that Kelly still writes a little like a school girl.
When I concluded the first draft of THE THIRD SIDE, I had been forced to present it in a different fashion - now a memoir, rather than something written in the present tense. At first, I had been bothered that this wouldn't work. In fact, once I had applied it and read it through, I much preferred it to what I had written in KNIGHTS (so much so that I actually make a reference to the slightly sloppy approach in the first chapter of THE THIRD SIDE).
With this done, and wanting to distance myself from THE THIRD SIDE before going back to it, I decided to apply the new format to KNIGHTS and see what happened. I did so, finding it far more appealing, opening up the world of the book a lot more and enjoying the consistent style I was creating. With that done, I decided to go through KNIGHTS and tweak in a few more bits and pieces, again just for practice. Several months later, I discovered that I had re-written a great deal of the book. I decided to carry on, and soon began calling it the Second Edition. The writing was tighter, some scenes that I never really enjoyed were removed, others rewritten to improve their presentation.
I released the original version of KNIGHTS under a Creative Commons license (by-nc-nd), and began distributing it to the iBookstore, Barnes and Noble, etc., as a free eBook (with the exception of Amazon, who request a minimum fee of $0.99 / £0.75 for a Kindle book. It's now free there now, though).
Backed with the extremely positive reception of KNIGHTS, as well as the strong Kindle sales, I posted the rewrite out to agents and publishers, hoping to get a publishing deal. Sadly, it didn't happen. At that point, I took a step back and wondered what I should do. I quickly figured it would be wasteful to just leave the completed manuscript on my hard drive to gather digital dust. So, once more spurred on by the wonderful reception of the first edition, I decided to sell ebook copies of it, too.
And after all, BATTLE FOR THE SOLAR SYSTEM is a story that I'm writing for myself, a story that I've always wanted to tell. So, publisher or not, I was always going to press on with getting it out there.
What exactly has changed?
[WARNING - THIS LIST CONTAINS SOME SPOILERS!]
An increase in length, by around 20,000 words. This has mostly come about due to the process of re-writing and fleshing out the characters so much more.
Kelly's journal is now presented in the form of a memoir, rather than a diary. This is a big change, as it gives a much wider view of the world and the events. There are also references to things that are yet to happen, as well as explaining past events in more detail.
Estelle isn't quite as neurotic (I know this was a big issue for some).
Parks and Chaz's past relationship is better hinted at.
The identity and origin of "The Enemy" is a little more open (but not made entirely certain; so don't worry, no spoilers).
Patrick Dean's role in the story is expanded on a lot more.
Dodds was actually sentenced to twelve years in prison, as a result of his manslaughter conviction (this doesn't impact the story, as he is still sent back to Earth - a proper explanation for this is given in THE THIRD SIDE). You'll be able to read this part for free in the excerpts.
A greatly extended prologue (which you'll also be able to read for free in the excerpts).
A number of re-written scenes, as well as a few new ones.
The scene in which Estelle fetches Kelly in "Where the Action Is" has been removed. I never liked it. Instead, the scene is now shown from Dodds' point of view, whilst he waits for her to arrive.
More information is given on Natalia's past in a new chapter entitled "What Natalia Saw".
The scene in which the White Knights must find a way to return to the ATAFs, whilst escaping Arlos Starport, is made a little more logical and believable.
Many other scenes are fleshed out and given a great deal more credence.
So, all in all, you can probably see that not a great deal has been altered: it's the same story, but with the writing greatly tightened up and with a few extra bits and pieces. Readers who enjoyed reading the First Edition and are eager to find out how the story continues shouldn't concern themselves that they will miss out on something important to the plot. You can always come back and read the Second Edition whilst you wait for Book 3..! ;)
If you're still unsure, grab the excerpts (coming September 2011). If you decide that this rewrite is for you, then you'll be able to purchase copy for £1.99 / $3.99 from all major eBook distributors.
Q&A
Will there be a second edition of THE THIRD SIDE?
No.
Where will HONOUR OF THE KNIGHTS (Second Edition) be available?
The second edition will be available as an eBook for Amazon Kindle, Barnes and Noble Nook, iBookstore, Kobo Books and Sony eBookstore, priced around £1.99 / $3.99.
Will you be removing HONOUR OF THE KNIGHTS (First Edition) from distribution?
No, there's no reason for me to do so. It will continue to be available from eBook stores and on the book series' dedicated website.
Out of the two, which should I read? The First or Second edition?
The Second Edition will prove a far more satisfying read. No, really. I mean that. Between the two, you should definitely be reading the Second Edition (also see The Bottom Line, below). If you're unsure, just compare the first three chapters of both editions. You'll see immediately that the writing in the second edition is far tighter and a much more palatable read.
Will there be a BFTSS Quiz App update, with questions about the Second Edition?
Yes. I'm working on these right now.
The Bottom Line
You've read HONOUR OF THE KNIGHTS (First Edition) and would like to just continue on with the story.
Read THE THIRD SIDE.
You've read HONOUR OF THE KNIGHTS (First Edition), but were planning on re-reading it before starting on THE THIRD SIDE.
I'd recommend you read HONOUR OF THE KNIGHTS (Second Edition), and then read THE THIRD SIDE. The reading experience of the second edition will be far more gratifying.
You've read HONOUR OF THE KNIGHTS (First Edition), are curious about the Second Edition, but would like some more details.
See the question above, "What exactly has changed". Additionally, the first three chapters will be available in September 2011.
You've not read THE HONOUR OF THE KNIGHTS at all, but are planning to.
Again, I'd recommend you read the Second Edition, and then read THE THIRD SIDE.
~ ~ ~
I hope that sets everything straight, and I hope everyone who reads them enjoys both HONOUR OF THE KNIGHTS (Second Edition) and THE THIRD SIDE.