Latest Updates
A North-South Divide audiobook now available
Fri, 11th December 2020
Alysha audiobook now available
Tue, 1st December 2020
My Best of 2019
Sat, 28th December 2019
The Honour of the Knights : Spanish Edition
Sat, 29th June 2019
My Best of 2018
Sat, 29th December 2018
Most Read
Project Starfighter - The game vs the book
Wed, 28th May 2014
About THE HONOUR OF THE KNIGHTS (Second Edition)
Sun, 5th June 2011
The Red Road
Mon, 23rd July 2018
A North-South Divide audiobook now available
Fri, 11th December 2020
Alysha cover reveal!
Wed, 17th October 2018
Writing Progress
Alysha
134,000 / 134,000 (100%)
A North-South Divide
112,000 / 112,000 (100%)
Tags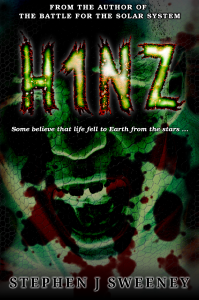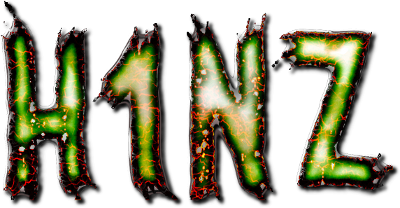 Book Information
Title: H1NZ
Genre: Science Fiction / Horror
Publication Date: 14th April 2013
ISBN: 9780955856129
Word Count: 83,000

Synopsis
Arriving on the back of a meteorite, an alien pathogen has spread rapidly around the world, infecting all living humans and animals, and killing off all insect life. Only plant life seem to be resistant. The infected do not die, however, but instead begin to mutate into horrendous creatures, gaining plant-like qualities and even melding with one another to create monstrosities of nightmare proportions.
Only a handful are immune, and these survivors cling desperately to life, searching for food, fresh water, and a means of escape, find rescue, and discover a way to rebuild.
Becky is a young woman, taking refuge in her flat in the southern English city of Brighton, along with her friend Abby, an Australian woman she met online.
Harry is a member of the Posse, a group of five men enjoying the anarchy of the United Kingdom, smashing and grabbing what they can to survive, caring little for whom they harm along the way.
Brad and his dog Sam are searching Oxford for Brad's fiancée, Anne, battling their way to Christ Church College.
Paths will cross, more lives will be lost and destroyed, and the world will give way to its new host.
Sample Chapters
Where to Buy

Amazon UK |

Amazon US |

Amazon CA |

Amazon DE |

Amazon FR |

Amazon IT |

Amazon ES